Components that you can need...
Product seller
Unipi technology
Jarní 44g, Brno
Other company´s products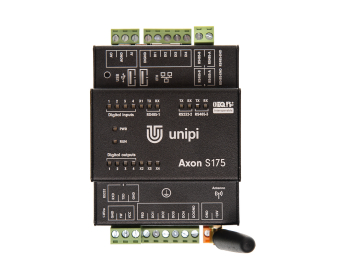 The Unipi Axon S175 is a programmable logic controller (PLC) and gateway, designed to be used as a controller for control, regulation and monitoring. The S175 model is a specialised variant featuring the TR-76D smart IQRF transceiver, allowing for interoperability with various IQRF devices.
Programmable logic controller / gateway Unipi Axon S175 IQRF
Axon S175 IQRF
Inputs and outputs
4x digital input
4x digital outputs
1x analog input
1x analogue output

Communication interfaces2x RS485
1x RS232
1x 1-Wire bus
1x 1Gbit Ethernet port

Other
CPU - 4x 1,2 GHz
Internal memory - 8GB eMMC
RAM - 1 GB
Power - 24V DC
TR-76D transceiver

There are no reviews for this product
Be the first to review this product