Components that you can need...
Product seller
NETIO products a.s.
U Pily 103/3, Prague
Other company´s products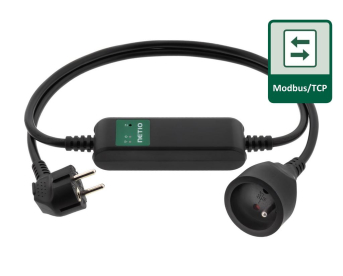 NETIO PowerCable Modbus 101x is a smart WiFi power socket and a power extension cable designed by NETIO products. Using the Modbus/TCP protocol, it is possible to switch its power output on/off and read energy consumption remotely over the network.

PowerCable connects to the network over WiFi (internal antenna). The output power socket can be turned On/Off over a web interface. The web interface also shows the measured electrical values (V, A, kWh, W, Hz, TruePF) at the metered power socket.

PowerCable Modbus 101x supports the M2M Modbus/TCP protocol for controlling its output and reading the measured values. Modbus/TCP is a popular M2M protocol used in the industry world-wide. To increase security, PowerCable Modbus contains a built-in IP filter. The IP filter limits the range of IP addresses that are allowed to access the device using the Modbus/TCP protocol.

The WiFi power cable supports IOC (Independent Output Control); the state of the output is not affected by weak WiFi signal, restart of the WiFi module, or even firmware upgrade. The power-up state of the smart power socket is configurable (On/Off/Last).

An important feature for industrial control is ZCS (Zero Current Switching). This feature ensures that the relay is switched only when the immediate current value passes through zero. This feature ensures long-term durability even when switching capacitive loads (switching supplies common in ICT) or inductive loads (transformers, motors).

The operating temperature range of NETIO PowerCable Modbus 101x is -10 to 65°C (at 65°C, the maximum current is limited to 5A).

Electrical measurements (readings accessible over Modbus/TCP and the web)

No special mobile application is needed for installing the WiFi controlled outlet and connecting it to a WiFi network. PowerCable Modbus works as a WiFi AP and a web based wizard will guide you through the configuration, including the selection of a WiFi network from a list. The setup process is simple and fast.

Power metering
Electrical measurements (accessible over the web as well as XML or JSON protocol)
• Current [A]
• Voltage [V]
• Consumption [kWh]
• Output power [W]
• TPF (True Power Factor)
• Frequency [Hz]
• Phase shift [-180...180°]
• Measurement accuracy: better than 1%
Zero current switching
ZCS (Zero Current Switching) support is important in situations where the output is switched more often than just a few times per day. ZCS makes sure that the output relay switches when the immediate current is zero.

ZCS reduces the stress on the connected electrical appliances, increasing the lifetime in case of frequent switching of appliances with a high inrush current. High inrush current is typical for switching supplies common in IT equipment.

ZCS is suitable for all types of appliances – capacitive loads as well as inductive loads (transformers, motors).
Applications
NETIO PowerCable Modbus 101x, a smart WiFi power socket for lightweight industrial applications. It is an ideal solution for remote control and metering of 230V power sockets outside electrical cabinets.
The metered power socket can be controlled over the network from a PLC (industrial controller), a multimedia PC, or an industrial touchscreen control panel.

NETIO PowerCable Modbus 101x is a WiFi controlled outlet suitable for IoT and Industry 4.0 applications.

Specifications
• LAN (RJ45): No
• WiFi: Yes (internal antenna, 802.11 b/g/n; 2.4GHz)
• WiFi Reconnect: Yes
• Online demo: Yes
• Web: Built-in web server
• FW upgrade: Yes - web
• Mobile app: No
• Mobile app needed for installation: No
• Control button: Yes

• M2M API protocol: Modbus/TCP
• M2M API – HTTP(s): No
• M2M API – Cloud: No
• Lua support: No

• Scheduler function: No
• IP WatchDog function: No
• Sending e-mails: No
• WiFi AP network mode support: No
• Extended security: Yes, IP Filter

• Power input: The "x" in the "101x" model number specifies the plug type
• Power output: The "x" in the "101x" model number specifies the socket type
• Available socket versions: DE, FR, CH, IEC-320 C13/C14, UK
• Internal consumption: Max 1.2 W
• Electrical measurements: Current [A] / Energy [kWh] / Input power [W], TruePF [-]), Frequency [Hz] / Voltage [V]
• SPD – surge protection: Yes, type 3
• IOC (output state independent on FW updates): Yes
• ZCS (Zero Current Switching): Yes
• Default output state: On / Off / LAST state

• Mechanical characteristics: Plastic housing – 180 x 40 x 30 mm + 2x 0.55m cable
• Protection: IP30
• Mechanical mounting: No
• Sound output: No
• Temperature range: -10°C to +65°C (for 65°C, max. current is 5A)

There are no reviews for this product
Be the first to review this product
| | | | |
| --- | --- | --- | --- |
| | | | |