Components that you can need...
Product seller
COMET SYSTEM, s.r.o
Bezručova 2901, Rožnov pod Radhoštěm
Other company´s products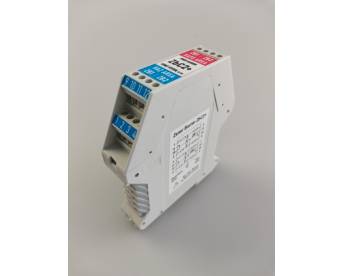 The Zener barrier ZbC2+ is a certified intrinsically safe interface. It is used to connect a certified intrinsically safe device located in a potentially explosive atmosphere (Hazardous area) to a non-certified device that is in a safe area.

The Zener barrier prevents the transfer of unacceptably high energy from the safe area into the hazardous area. The ZbC2+ Zener barrier contains two identical diode return barriers in a common housing and it is designed for DIN rail mounting in a safe area.
TECHNICAL DATA
BARRIER TYPE AND DESIGN
Two identical Zener barriers ZB1 and ZB2 in the common housing
Positive polarity with return diode
ELECTRICAL SPECIFICATION
Nominal resistance Ro 310 Ω
Fuse rating 40 mA
Series resistance Rs1 = 355 Ω (terminals 1-5, terminals 3-7)
Rs2 = 42 Ω (terminals 2-6, terminals 4-8)
Voltage drop across return diode 0.8 V
Working voltage (SAFE terminals) max. 26 V at the current of less than 10 uA

GENERAL TECHNICAL DATA
Operating temperature range from -20 to +60 °C
Dimensions 22,5 x 114 x 100 mm
Weight 125 g
Warranty 3 years
DATA FOR APPLICATION IN CONNECTION WITH HAZARDOUS AREAS
Directive conformity 2014/34/EU
Compliance with standards EN IEC 60079-0:2018, EN 60079-11:2012
Certificate FTZU 22 ATEX 0018X
Identification marking EX ll (3)G [Ex ic Gc] IIC
Voltage Uo 29,4 V
Current Io 96 mA
Resistance Ro min. 306 Ω
Capacitance Co + Induktance Lo 120 nF + 2 mH or 60 nF + 4 mH
Maximum safe voltage 250 V

There are no reviews for this product
Be the first to review this product
| | | | |
| --- | --- | --- | --- |
| | | | |